Exhibition catalogue, Galerie der Stadt Remscheid, KERBER Edition Young Art, 2009
Available through KERBER Young Art
Der Garten in der Kunst seit 1900
Ausst.Kat. Kunsthalle Emden,
Du Mont Verlag, Köln 2007.
Ausst.Kat. Phoenix Kulturstiftung / Sammlung Falckenberg,
Hamburg / DA 2 Domus Artium, Salamanca / Galerie der Stadt Remscheid, Hatje-Cantz Verlag, Ostfildern 2006.
Ausst.Kat. Künstlerhaus Palais Thurn und Taxis Bregen - Museum der Stadt Ratingen, Frankfurt am Main 2005.
Yale University Press 2008.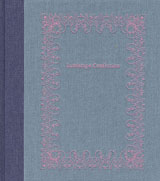 Landscape Confection
Exhibition catalogue, Columbus: Wexner Center for the Arts, The Ohio State University, 2005. By Helen Molesworth, additional text by Claudine Isé.